While we are only a small parish in Western New York, we are part of the broader Russian Orthodox Church, the largest Orthodox body in the world. We are also part of the global Eastern Orthodox Church which includes national churches in traditionally Orthodox countries like Russia, Greece, Romania, Serbia, Cyprus, and the Middle East, but has also spread throughout all the world. There are over 250 million Eastern Orthodox Christians in the world today and over 1 million in the United States.
While many of our congregants were brought up in the Orthodox Church, many have journeyed to Orthodoxy either from other Christian faith traditions or from non-Christian spiritual traditions. Whether you are "on a journey" or just want to visit a local Orthodox church, you will be welcome at Sts Theodore. We are always happy to have others join us for prayer to and worship of the One God, the Father, the Son and the Holy Spirit.
We hope you will find our site informative and edifying. We invite you to join us for one of our liturgical services which preserve the worshipping tradition of apostolic Christianity and grant those who participate in them an experience of heaven on earth. We have an All-Night Vigil service every Saturday at 5:00 p.m. and Divine Liturgy every Sunday morning beginning at 9:00 a.m. Lunch is served after Liturgy and all are welcome.
We looking forward to meeting you. May the Lord bless you.
Current Bulletin
Seventh Sunday after Pentecost
Deposition of the Robe of the Most Holy Theotokos

July 2/15, 2018
Click Here to View/Download This Week's Bulletin
.
Upcoming Services
Saturday, 8 / 21 July
4:00PM Confession
5:00PM All-Night Vigil

Sunday, 9 / 22 July
9:00AM Hours and Divine Liturgy

Wednesday, 12 / 25 July
6:00PM Akathist and Confession

Upcoming Events
Feast of the Royal Martyrs of Russia
This year, on July 17, we will commemorate the centennial of the murder of the Royal Martyrs with special solemnity. By order of the Synod of the Russian Orthodox Church Abroad, we will be serving the Vigil for their feast beginning at 10:00 pm on Monday July 16, the eve of the Feast, and continuing right into the Liturgy which should begin around midnight. Please mark your calendars for these services.
You can read the Ukaze/Directive regarding the celebration of this feast: click here.
Feast of the Holy Apostles Peter and Paul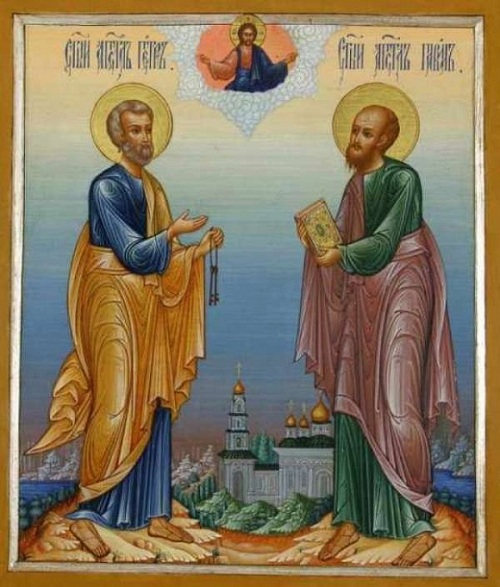 The Feast of the Holy Apostles is approaching. The All-Night Vigil for the Apostles will be served on Wednesday, July 11, beginning at 6:00 pm. We will serve the Divine Liturgy on the day of the Feast, Thursday, July 12, beginning at 8:00 am. We will gather again at the Church for a Festal potluck that evening at 6:00 pm and enjoy the end of the Fast. Please mark your calendars and plan to attend.
Sts Theodore Annual Parish Picnic
As we near the end of the Holy Apostles' Fast, we know that it is almost time for our annual parish picnic. The picnic is planned for Sunday, July 15, and will take place at the home of Anthony and Gabriella Damiano. Please mark your calendars!
Check Out Our YouTube Channel
That's right! Saints Theodore now has its own YouTube channel (click here). You can listen to lectures from our Sts. Peter and Febronia Marriage and Family Life Retreat, check out classes that have been offered at the parish, or catch up on a sermon you might have missed. More content is being added all the time, so make sure you subscribe to get email reminders when new videos are added.